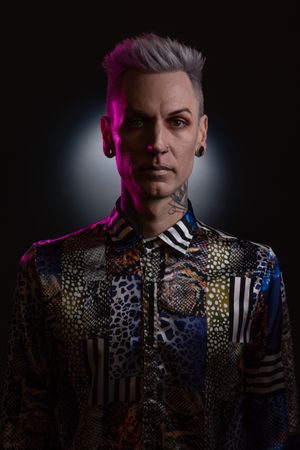 BIOGRAPHY
Affecting a graceful introduction is, perhaps, not the primary concern of backwoods born Ronald Eric Vain, the son of a preacher man, whose nom de plume - Eric Vain - sums up his agenda as a blossoming musical satirist in three conveniently pun-worthy and cynical syllables. Befitting then, that the man who takes his own name in _ _ _ _. Blaspheming his way through genre, image, religion and the concept of the self, Vain exposes the core of his life and times as a sick joke worth the living. Walt Whitman's veritable tobacco wad has found reason to dance into it's own disgusting habit. 


With a clever twist of genius, Eric Vain spins an epic sensibility and contagious sound that transcends emotional defeat and sacrifice. The listener is inspired with a whole new world of loss, pain and retribution. 


Eric Vain is not content with mere heartbreak. He'd much rather carve his soul to pieces and somehow make it poignant, apocalyptic and improbably danceable. 


Vain's beautiful arrangements and lyrical gifts permit him to tackle deeply unpleasant – yet universal – emotions with the honesty of someone who isn't afraid to admit that failure IS an option. 


With Eric Vain, redemption is no guarantee.